Sun Odyssey 479 - 4 cab. - "Horizon"
Sun Odyssey 479 "Horizon" in Rogoznica offers space for a maximum of 10 people in 4 cabins with an overall length of 14.43 m.

The Sun Odyssey 479 "Horizon" in Rogoznica combines the latest innovations with the tried and tested. The clean lines of her modern hull come from the Philippe Briand design office, allowing for exceptional looks and unparalleled performance.

The special feature of this yacht: furling mainsail and furling genoa ensure proper sailing fun, safety and family-friendly handling. The bow thruster also ensures safety and easy handling on board. An autopilot and color plotter at the helm add convenience and safety.


This other equipment is also top notch:Flat keel, electric windlass, swim platform and active AIS make our Sun Odyssey 479 "Horizon" in Rogoznica an all-rounder in the equipment department!

This 48-foot, 4-cabin yacht offers a perfectly balanced blend of sophisticated performance, high comfort and easy handling.

The crack with clean lines, stretched hull and moderate freeboard gives the Sun Odyssey 479 "Horizon" in Rogoznica an appealing look and sailing performance at its best. With a perfect blend of performance, comfort and uncomplicated handling, the Sun Odyssey 479 proves to be as responsive as she is course stable. No matter where your cruise takes you, you will experience unforgettable moments with her.

Ergonomics, space and high quality finish are the apt attributes for the Sun Odyssey 479 "Horizon" Rogoznica.
New furling mainsail and furling genoa 2023, Flat keel, gennaker equipment, composite steering wheels, fans in saloon and all cabins, large freezer and additional fridge, teak on cockpit seats + cockpit floor + bathing platform, CD radio with 2 speakers in saloon and cockpit
Basic informations
Name
Horizon
Manufacturer
Jeanneau
Model
Sun Odyssey 479 - 4 cab.
Build year
2018
Cabins
4
Berths
8
Toilets
4
Max. passengers
10
Equipment
Steering
2 Steering Wheels
Main sail
furling/roll
Headsail
furling/roll
Technical data
Length
14,43 m
Beam
4,49 m
Draft
1,65 m
Weight
10.800,00 kg
Engine
56,00 hp
Fuel tank
250,00 l
Water tank
615,00 l
Navigation
Composite steering wheels
GPS chart plotter - cockpit
Navigation (Nautical) charts and nautical guide
Navigation/position Lights
Wind/speed/depth instruments
Deck
Bosun's chair (Safe seat) (boatswain's chair)
Cockpit/stern, outside shower
Spare anchor (Reserve, Auxiliary anchor)
Safety
Automatic Inflatable Life Jacket
Life belts (Safety harness)
Entertainment
Radio CD player, AUX input
Galley
Kitchen utensils (Galley equipment, cutlery)
Other
Impeller, V-belt, oilfilter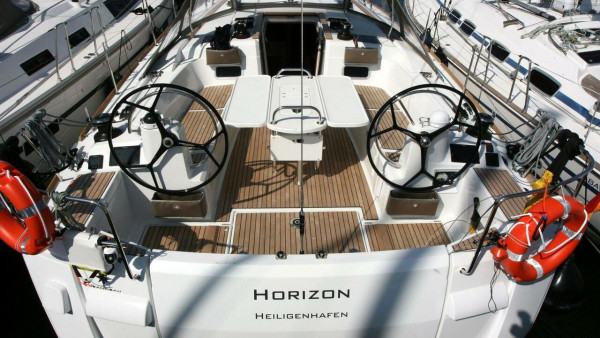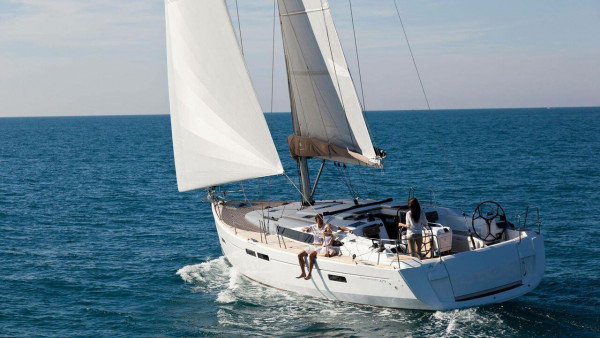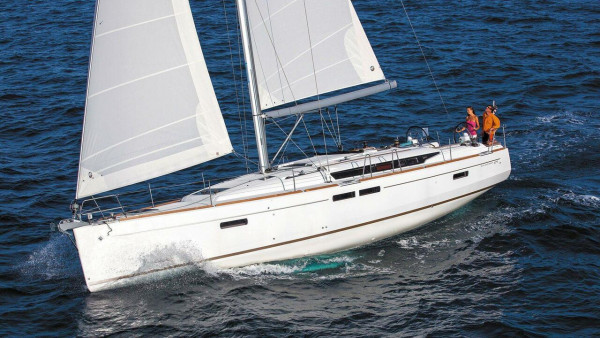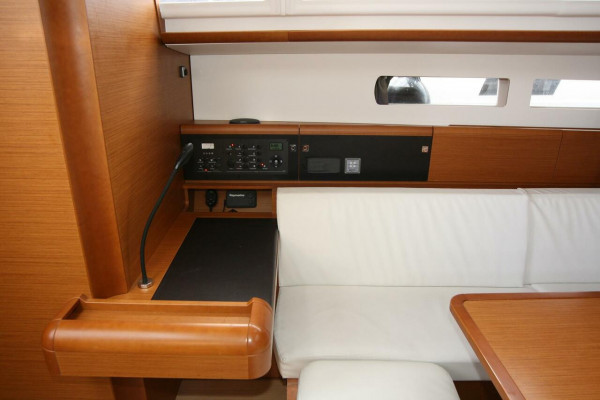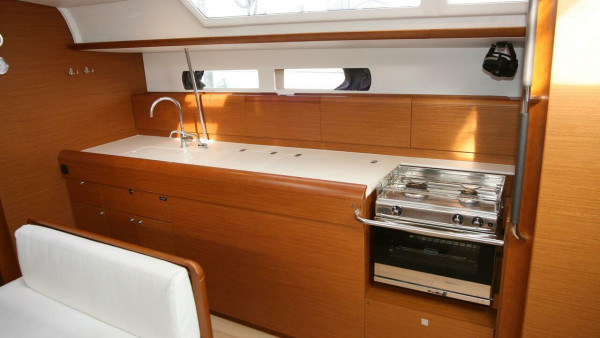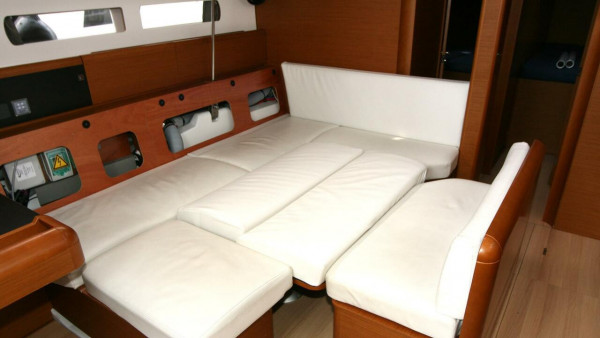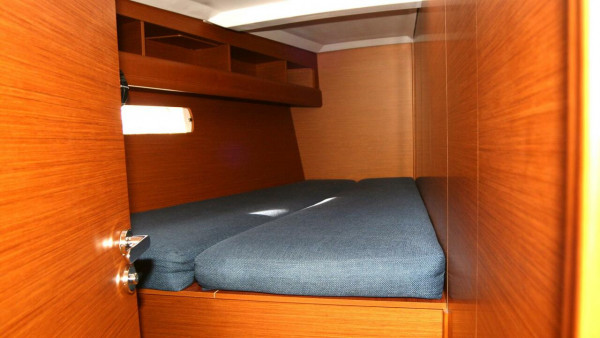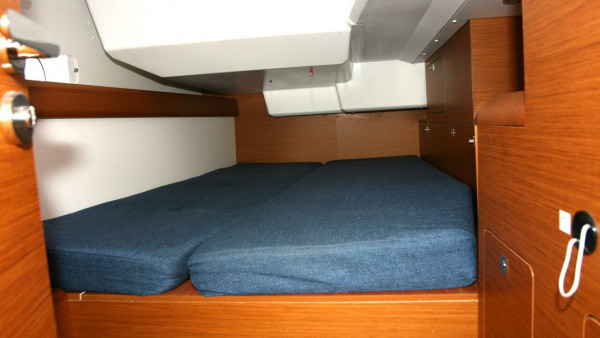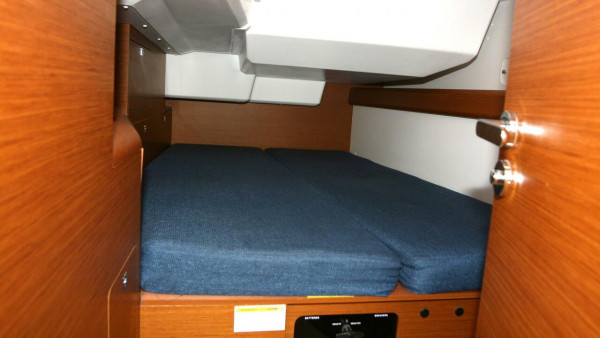 2024
Sa. 30.03.2024 - 07.07
2.120,00 €
1.541,54 €
Sa. 06.04.2024 - 07.07
2.120,00 €
1.541,54 €
Sa. 13.04.2024 - 07.07
2.120,00 €
1.541,54 €
Sa. 20.04.2024 - 07.07
2.120,00 €
1.541,54 €
Sa. 27.04.2024 - 07.07
2.120,00 €
1.541,54 €
Sa. 04.05.2024 - 07.07
3.070,00 €
2.332,40 €
Sa. 11.05.2024 - 07.07
3.070,00 €
2.332,40 €
Sa. 18.05.2024 - 07.07
4.220,00 €
3.290,84 €
Sa. 25.05.2024 - 07.07
4.670,00 €
3.665,20 €
Sa. 01.06.2024 - 07.07
4.670,00 €
3.665,20 €
Sa. 08.06.2024 - 07.07
4.670,00 €
3.665,20 €
Sa. 15.06.2024 - 07.07
4.670,00 €
3.665,20 €
Sa. 22.06.2024 - 07.07
5.170,00 €
4.081,70 €
Sa. 29.06.2024 - 07.07
5.170,00 €
4.081,70 €
Sa. 06.07.2024 - 07.07
5.170,00 €
4.081,70 €
Sa. 13.07.2024 - 07.07
5.170,00 €
4.081,70 €
Sa. 20.07.2024 - 07.07
5.170,00 €
4.081,70 €
Sa. 27.07.2024 - 07.07
5.170,00 €
4.081,70 €
Sa. 03.08.2024 - 07.07
5.170,00 €
4.081,70 €
Sa. 10.08.2024 - 07.07
5.170,00 €
4.081,70 €
Sa. 17.08.2024 - 07.07
5.170,00 €
4.081,70 €
Sa. 24.08.2024 - 07.07
5.170,00 €
4.081,70 €
Sa. 31.08.2024 - 07.07
5.020,00 €
3.957,24 €
Sa. 07.09.2024 - 07.07
5.020,00 €
3.957,24 €
Sa. 14.09.2024 - 07.07
4.670,00 €
3.665,20 €
Sa. 21.09.2024 - 07.07
4.220,00 €
3.290,84 €
Sa. 28.09.2024 - 07.07
3.070,00 €
2.332,40 €
Sa. 05.10.2024 - 07.07
3.070,00 €
2.332,40 €
Sa. 12.10.2024 - 07.07
2.120,00 €
1.541,54 €
Sa. 19.10.2024 - 07.07
2.120,00 €
1.541,54 €
Sa. 26.10.2024 - 07.07
2.120,00 €
1.541,54 €
Ihr verbidlicher Chartervertrag